Skip to content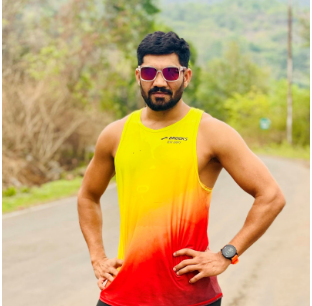 Vijay Gaikwad
Ultra Marathoner
City: Pune
Profession: Coach
Personal Best
50 km- 04:10:00 
100km- 11:37:00 
Achievements
• National Boxer 
• Podium finisher in several marathons
• Podium finisher in several ultra marathons
• National referee Kickboxing
Athletics Journey
Vijay has trained more than 500 athletes with 100+ athletes currently training under him. He is a national level boxer and a Karate black belt. He is a triathlon coach as well. His journey has pivoted around various sports such as running, triathlon, boxing, karate, wushu and adventure races.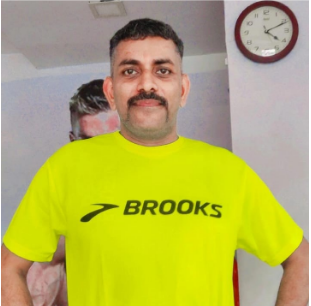 Gurumurthy nayak
10K Runner & Half Marathoner
City: Mumbai
Profession: Marathon Coach and Fitness Expert
Personal Best
10K- 32:30 (1998)
21K- 1:12:00 (1998)

Achievements
• Ex National Level Long Distance Runner.
• Have been run more than 100+ half marathons .
• Head coach of Superfit Juhu Group. Founder of team Mumbai Flyers. 
• Have been awarded as most improved runner of the year by Mumbai Road Runners(MRR) in the year 2018.
• Podium finisher of Mumbai 10k run.
• Podium finisher of Vasai virar 21k relay run 2018 and 2019.
• 2nd runner of IDBI Stadium run relay team 2019.
• Ambassador for Brooks
• Have been an ambassador, motivator, an influencer and pacer for many marathon events held across Mumbai.
• Running for the last 30+ years.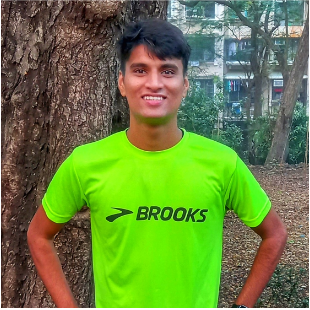 Saish Shirodkar
Marathoner & Ultra Marathoner
City: Mumbai
Profession: Athlete
Personal Best
5K- 18:50 Marathon- 03:17:27
10K- 38:57 50K- 03:56:37
21K- 01:29:40 12 Hours- 100.4kms
Achievements
• Hennur Bamboo Ultra Trail Race 80k 2021- 2nd Place
• 12 hour Mumbai Stadium Run 2021- 3rd Place
Athletics Journey
Saish started his running journey after class 10th to lose some weight and get fit. 
He ran his first 10k for fun in 58:00 mins and then he fell in love with the sport. Slowly and steadily he started to chase his old PB's and it became his addiction to cut down on his old timings and run as long as he could to test his endurance capacity. He firmly believes that with consistency and hard work anyone can achieve anything and he also believes that his only competition is with himself. So he set a goal for himself which was running 12hours at Stadium Run and covering at least 100k in the race so he trained hard for it and Brooks team helped him with this providing everything he wanted for this race to happen. He raced this event successfully and finished with a podium in his first Ultra Run. Still he is going super strong with his running journey.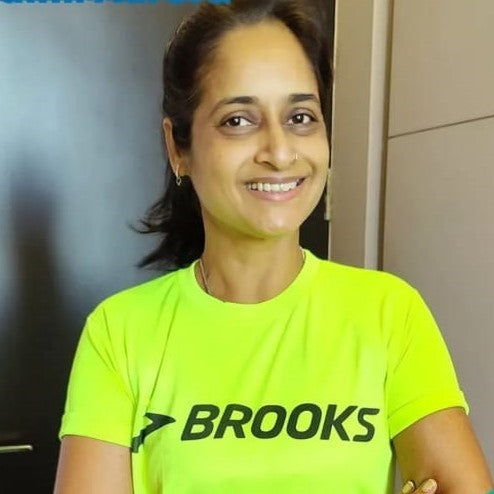 Shalini Aurora
Runner
City: Mumbai
Profession: School Teacher & Fitness Influencer
Achievements
Podium finisher in several 5k, 10k and 21k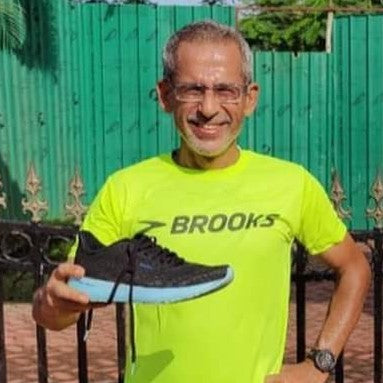 Luv Burman
Marathoner & Ultra Runner
City: Kolkata
Profession: Service
Personal Best
5K- 20:21
21K- 01:30:00
Marathon- 03:16:14
Achievements
TMM - 2018,19, and 20
TSK25 - 2018, 1.55.50 Minutes
Boston Qualifier 2020
Khardungla 74 km 2019
Kolkata to Gangtok -685 km (Non-Stop Relay Run 2021)- 58:38:00
Gangtok to Gurudongmar Lake 2022- 5 days(186 km)
High Altitude Running entry submitted into Indian book of
records.
Border 100 km Run 2021
Buddha Trail 65 km 2021 and 2022
Athletics Journey
Luv started his running journey in
2016. His first run was TSK 25 in 2016. In 2017 he  joined Kolkata Road Runner's in 2017, after which he never looked back and there he learnt everything from scratch .Did his first Ultra 50 km in Bangalore,2017 where he finished podium in his age
category. He also qualified for the Boston marathon after Ageas Kolkata Marathon 2020 , and has progressed to ultra Running. His future goals is to complete the 122 km Silk Route at Leh in 2022 ,and the Border Run 100 miles in 2022.
" NO HUMAN IS LIMITED"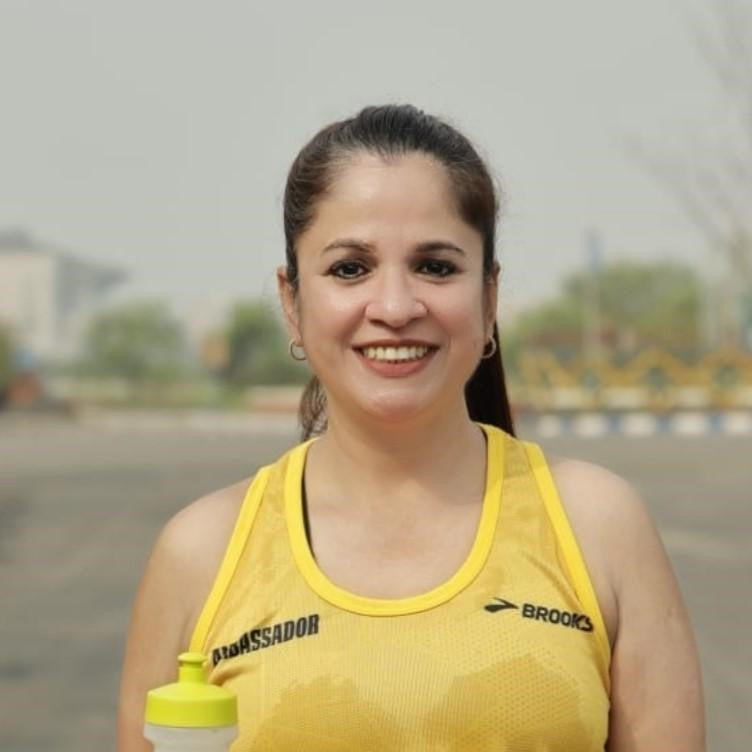 Shalu Bajaj
Ultra Marathoner
City: Kolkata
Profession: Coach
Personal Best
21K- 02:04:00
Marathon- 04:38:00   
Achievements
Podium finisher in Matheran Ultra and Bengal Ultra
ACSM Certified Marathon Trainer
UESCA Certified Ultra-Running Coach
Specialisation in Clinical Nutrition, Weight Management and Sports Nutrition
Certified MAF Trainer
Athletics Journey
Shalu's running journey started in the year 2017. But now she is focusing on certifications and studies. She is also pursuing Abbott World Major Marathons.Her dream is to open a coaching academy.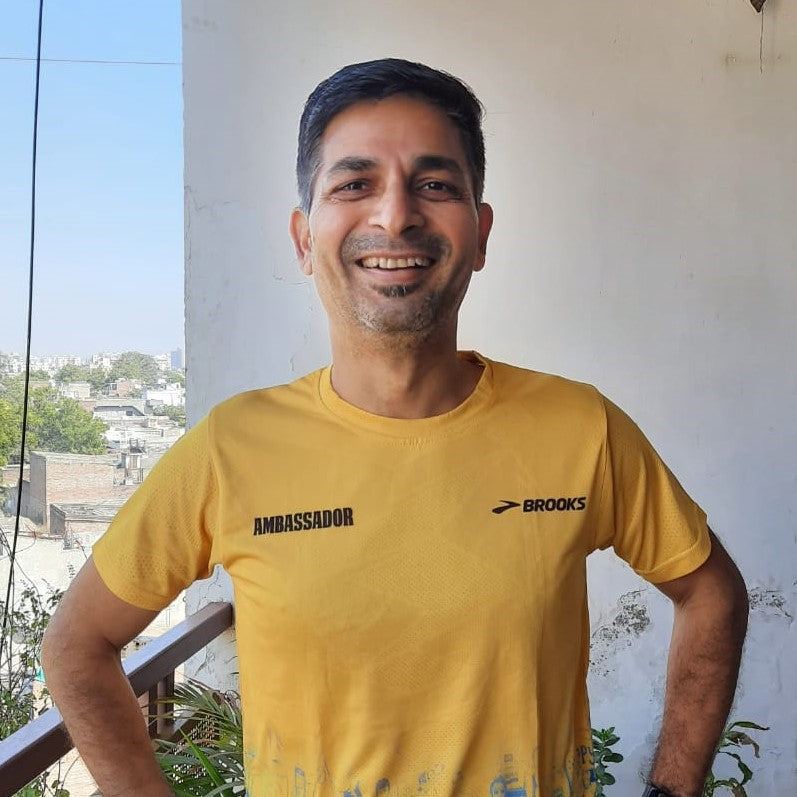 Raja Marut
Runner
City: Ahmedabad
Profession : Sales Consultant & Medical Equipment Supplier
Personal Best
21K- 1:48:00
Marathon- 03:56:00   
Achievements
Ahmedabad to Porbandar 400 Kms Run with a cause Deaf blindness
Athletics Journey
Raja started his running journey in 2016 to begin to get fit. Over the past decade, he has worked in the telecom industry. His work responsibilities made it very difficult for him to keep a
healthy diet and maintain a healthy lifestyle. In the beginning,he used to run whenever he had free time to keep himself fit, then he started short-term goals. Eventually, he decided to take part in long distance running events and
soon this became his passion. His mindset changed and he felt like a free bird with so much confidence.That became his refuge and his biggest strength which is getting stronger and stronger with every day. "Running is like meditation for him. It gives him enough time to introspect about various aspects of his life."
Sunday,Monday,Tuesday,Wednesday,Thursday,Friday,Saturday
January,February,March,April,May,June,July,August,September,October,November,December
Not enough items available. Only [max] left.